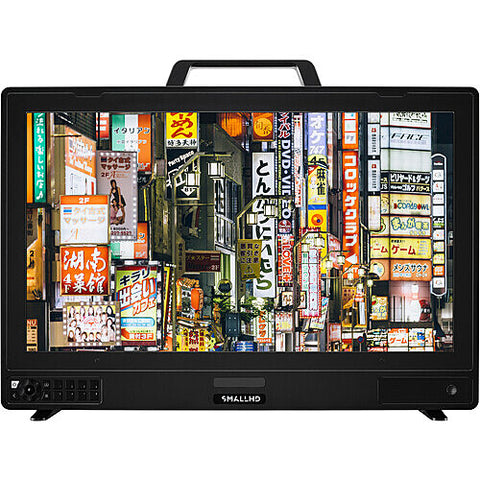 SmallHD Cine 24" 4K High Bright Pro Monitor
SKU:
---
---
Need help?
Call: 718-218-7903
Description
Add a professional UHD 4K monitor to your studio with the Cine 24" 4K High Bright Pro Monitor from SmallHD. Featuring the updated SmallHD OS4.1, the monitor provides a crisp image with 10-bit DCI-P3 color intelligence, 1350 cd/m² brightness, and a 1000:1 contrast ratio.
The monitor features four 12G/6G/3G/HD-SDI inputs and four 12G/6G/3G/HD-SDI outputs, as well as one HDMI 2.0 input and one HDMI 2.0 output. All functionality of the monitor is accessed via the innovative Page Builder in OS4.1 that features a fully redesigned UI, preconfigured pages, and page tabs. Other monitoring features include a calibration wizard, false color overlays, waveform, pixel zoom, focus assist, peaking, and improved function buttons. Additional functions with updates of OS4.1 will include dual and quad view and 4K waveforms and scopes with regions of interest.
Key Features
24" Display, UHD 4K Resolution

1000:1 Contrast, 10-Bit Color

1350 cd/m², SmallHD OS4.1

12G-SDI and HDMI 2.0 Inputs and Outputs

3D LUT Support, SD Card Slot

RJ45 Ethernet and GPI, XLR Power Input

USB Type-C Power Outputs, Redesigned UI

Waveform, False Color, Focus Assist

Peaking, Pixel Zoom, Pages, Page Tabs
Replacement Value: $8,500
Reviews