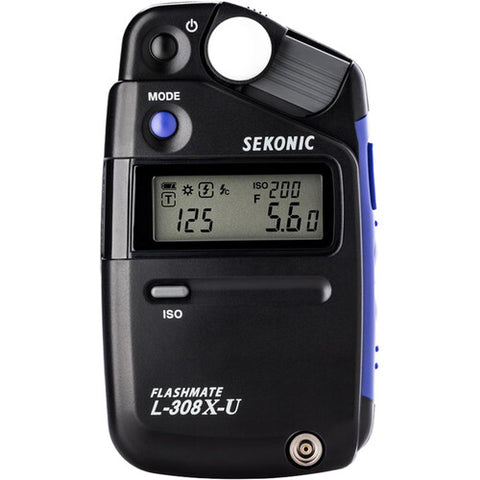 Sekonic L-308X-U Flashmate Light Meter
SKU:
---
---
Need help?
Call: 718-218-7903
Description
Exceptionally portable and versatile in its design, the 
L-308X-U Flashmate Light Meter
 from 
Sekonic
 is a versatile meter that blends both photo and video-oriented functions into a single unit. Equipped with a sliding lumisphere, the L-308X is capable of measuring incident or reflected light via a lens with a 40° reception angle. It offers a wide metering range from 0 to 19.9 EV at ISO 100, working with exposure times as low as 1/8000 all the way up to 60 seconds; it also has an equally broad flash range from f/1.0 to f/90.9 at ISO 100.
Key Features
Incident Metering for Ambient & Flash
40° Reflected Light Metering
Photo, Cine, and HD Cine Metering Modes
Customizable LCD with Auto Backlight
Range: 0 to 19.9 EV at ISO 100
Flash Range: f/1.0 to f/90.9 at ISO 100
Exposure Time: 1/8000 to 60 Sec
Repeat Accuracy: ±0.1 EV or Less
PC Sync Terminal & Cordless Flash Option
Replacement Value: $220
Reviews