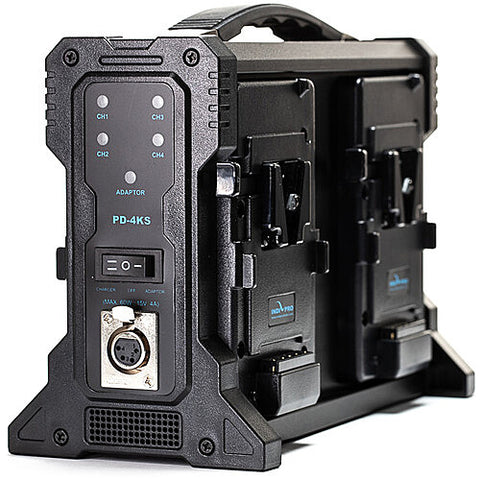 IndiPRO Tools Quad Pro Battery Charger (V-Mount)
SKU:
---
---
Need help?
Call: 718-218-7903
Description
Simultaneously charge up to four lithium-ion V-Mount batteries with the dedicated IndiPRO Tools Quad Pro Battery Charger. It delivers 2.5A of power per channel whether charging a single or multiple batteries, and also offers a 4-pin XLR output for powering cameras and lights from an AC outlet.
The Quad Pro has a portable design, with an ergonomic handle providing for easy transport. LED status indicators let you better manage your batteries, and a power switch is available for turning the charger off when not in use while still keeping it plugged in. The Quad Pro supports 100-240V power input so you can use it worldwide. An XLR cable also comes included.
Key Features
Simultaneous Li-Ion Quad Charger

2.5A Per Channel

4-Pin XLR DC Power Output

Ergonomic Handle

LED Status Indicators

On/Off Power Switch

100-240V Power Input

XLR Cable Included
Replacement Value: $340
Reviews