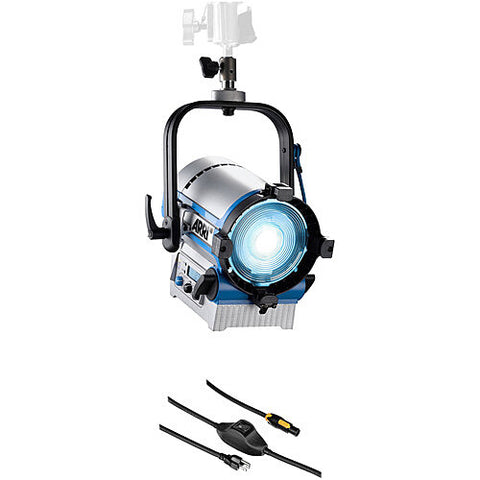 ARRI L5-C 5" LED Fresnel
SKU:
---
---
Need help?
Call: 718-218-7903
Description
ARRI continues to expand its L-Series with the introduction of the L5-C 5" LED Fresnel . The key characteristic of any Fresnel is flood to spot capability and the L5-C offers an impressive beam angle adjustment of 14-50°.
The 100-0% dimmable L5-C is a "fully tunable" white light source, allowing you to match existing fixtures with color temperatures from 2,800K to 10,000K. The on-board controller allows full minus green to plus green adjustment as well as RGB+W color gamut color mixing with hue and saturation control, enabling matching of specific shades and skin tones. All functions can be controlled via DMX, an ideal feature for broadcast studios, while RDM permits monitoring of the light's status.

The L5-C produces the equivalent of a 450W tungsten light while drawing only 115W for a savings of up to 75% over traditional fixtures. And low draw and heat means lower HVAC costs in the studio and a quick return on investment. You can run about fifteen L5-Cs from a 20A, 120V outlet as opposed to three or four 500W tungsten fixtures. Power options include the L5-C's 90 - 250 VAC on-board power supply or 22-36 VDC battery options. This version of the L5-C has a silver/blue finish. A required power cable does not come with this light and needs to be purchased separately
Replacement Value: $3,000
Reviews